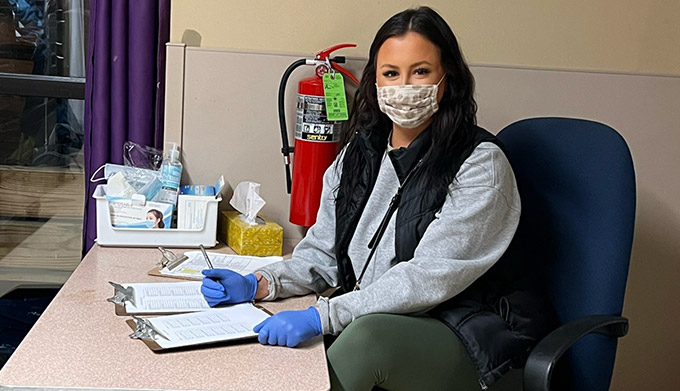 During January of 2022, we gathered donations for Sojourner House, a homeless shelter here in Eau Claire. Along with non-perishable contributions from the community, Chippewa Valley Outdoors donated funds and Bohemian Ovens & Restaurant provided Kolaches. We collected over $1,000 in donations, in addition to items such as winter gear, shelf-stable foods, and personal care items. 
CLICK HERE to View Our WEAU News feature
---
Lemonade Day
In collaboration with the Boys & Girls Club of the Greater Chippewa Valley, Lemonade Day offers kids at the Club an opportunity to become entrepreneurs—learning about marketing, financial literacy, customer service, and more! At the Boys & Girls Club, members benefit from an "inclusive environment where every kid feels appreciated, valued, and understood for who they are, with positive adult mentorship and positive peer relationships." Stay tuned as we prepare for the 13th Annual Lemonade Day, coming up on August 4th, 2022!
CLICK HERE to View Our WEAU News feature
Grads Good Choice
Each year at our Grad's Good Choice Grand Prize Party, we give away a free car to a local high school graduate who attends their school's post-graduation lock-in! This year's winner is Altoona High graduate Jannelise Brzostowski. 
CLICK HERE to View Our WEAU News feature
Donation to Local Veteran Groups
For every car sold during the month of July, $100 is donated to several veteran organizations in the area. Prestige Auto has gifted more than $120,000 over the past 8 years in support of local veterans. 
CLICK HERE to View Our WEAU News feature
Veterans' Tribute Event
While Prestige honors those who have sacrificed for our country year-round, we come together every summer for a day to honor, recognize, and give back to those who have served. "We started this in 2014—helping the veterans here in the Chippewa Valley. There are always a lot of needs for the veterans, and we are so blessed to be able to give back to the veteran community here in town." - Dan Mattoon
CLICK HERE to View Our WEAU News feature
Prestige of Art & Community Contest
In the fall of 2021, the Prestige of Art & Community Contest took place here at Prestige. This inaugural event provided an opportunity for artists of all ages and walks of life to showcase their skills and have the chance to win a cash prize, all while helping the community. All 23 pieces of artwork received were voted upon by the community, receiving a total of almost 700 votes. Artist Marion Lambright received the most votes for his painting, crowning him first-place winner of the contest. All proceeds collected in honor of Marion's charity of choice, Hope Gospel Mission, were matched by Prestige up to $5,000. Far surpassing this goal, we presented a check to Hope Gospel Mission to support their mission: "To see the lives of the homeless and needy transformed for the glory of God, so they can be the people that God intended them to be. We are not just a shelter. Our goal is to not just help you for today, but for life."
CLICK HERE to View Our WEAU News feature
Holiday Food Drive
In December of 2021, we collected 268 pounds of contributions (almost 300 items!) to be donated to Feed My People Food Bank. The grand total for online donations was $95, which the food bank can stretch to 380 meals to families and individuals in need!
CLICK HERE to View Our WEAU News feature
Junior Achievement
Each summer, Prestige is a major sponsor of Junior Achievement's annual Golf Outing, their largest fundraising event of the year! Groups from surrounding area businesses, including Prestige, came together to play an 18-hole scramble. This event supports Junior Achievement in their efforts to support, inspire, and prepare young people for their journey to success.
Bowl for Kids' Sake
"Bowl for Kids' Sake is Big Brothers Big Sisters' largest national fundraiser, raising over $20 million annually for children in need across the country." - Learn More
Prestige Auto puts a themed team together every year in support of the event. This year, the Prestige Team raised $1,166.10, exceeding our goal of $1,000! All proceeds were donated to Big Brothers Big Sisters of Northwestern Wisconsin. We even won the dance off for the second year in a row!